Super Omega-3 EPA/DHA with Sesame Lignans & Olive Extract EU
Category:
Heart
Manufacturer: Life Extension
Heart & brain healthy fish oil formula
Easy-to-swallow small softgels


Powerful cardiovascular and cognitive health support


Good source of Omega-3s and beneficial polyphenols


Made with fresh, IFOS™ 5-star certified fish oil


Contains Mediterranean diet-inspired olive fruit extract


Sesame lignans increase stability of omega-3 nutrients
Certificates and Awards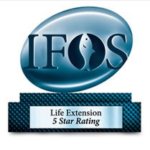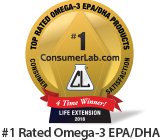 In stock Warning: Last items in stock!
Availability date:
By buying this product you can collect up to 34 loyalty points. Your cart will total 34 points that can be converted into a voucher of 1,70 €.

Volume discounts
Quantity
Price
You Save
2
33,57 €

Up to

2,80 €
4
32,87 €

Up to

8,39 €
More info
Super Omega-3 EPA/DHA with Sesame Lignans & Olive Extract

240 softgels

Item Catalog Number: 01986EU




The health benefits of eating cold-water fish are robust, yet concerns remain about contaminants found in wild and farm-raised fish. This should not stop consumers from including fish in their diet, as the longevity advantages of consuming cold-water fish instead of foods like beef are substantial. A recent study found that even vegetarians that include some fish in their diet fare better than strict vegetarians.1
Eliminate Virtually All Fish-Derived Toxins
Consumers can exert significant control over their exposure to fish-borne toxins. High-quality fish oil is distilled to remove synthetic and natural contaminants that existed in the fish itself. Enhanced molecular distillation techniques utilize redundant processes to virtually eliminate detectable environmental toxins.

The other safety concern about fish oil is that its delicate omega-3 fats are highly vulnerable to rancidity. No one wants to ingest oxidized (rancid) oils.

A new fish oil blend derived from pristine waters off the coast of Alaska utilizes a multistep process to remain exceptionally fresh. The result is that this Alaskan-de­rived fish oil has a greater than a five-fold reduction in the upper-level threshold measurement for oxidation.

Current oxidation standards for quality fish oils ensure products free from rancidity. The new Alaskan-derived fish oil specification advances this premium standard five-fold better.

The chart below reveals the reduction in the upper limit for oxidation of this new Alaskan fish oil blend over existing quality fish oils:
Alaskan-Derived Specification
Current High-Quality Specification
TOTOX (total oxidation value)

(Lower means less oxidation)
Maximum: 5
Maximum: 26
Peroxide level

(Measure of current oxidation)
Maximum: 1.0 meq/kg
Maximum: 5.0 meq/kg
Anisidine level

(Measure of past oxidation and measure of aldehyde production during handling and storage)
Maximum: 5
Maximum: 20
Higher Percentages of EPA and DHA
An advantage to higher EPA and DHA fish oil concentra­tions is smaller sized omega-3 capsules. The addition of this new Alaskan-derived fish oil to the Super Omega-3 supplement group enables the same high-potency EPA/DHA to fit into slightly smaller capsules for easier swallowing.


International Fish Oil Association Five-Star Rating
The International Fish Oil Association (IFOS) is an independent organization that tests fish oils to deter­mine their overall safety and quality. A Five-Star Rating indicates fish oils have been tested to meet strict standards of quality as determined by EPA and DHA content, and for purity to rule out contamination with heavy metals, radiation, oxidation, and organic pollut­ants such as PCBs and dioxin.

Alaskan-derived fish oil enjoys the same Five-Star Rating mandated for all fish oils contained in the Super Omega-3 family of supplements.
Sustainable Fishing
The Marine Stewardship Council is an independent nonprofit organization that sets a standard for sustain­able fishing so that that fishing can continue indefinitely with minimal environmental impact. The new Alaskan-derived fish oil is the first refined omega-3 concentrate available worldwide that is sourced from a sustainability fishery certified by the Marine Stewardship Council.
Most Advanced Omega-3 Dietary Supplement
From supporting heart health and brain function to balancing the inflammatory response, there is no debat­ing the broad-spectrum benefits of omega-3 fatty acids.2-4

There are hundreds of fish oil supplements on the market. The only one incorporates lifesaving findings to provide omega-3 and olive fruit extracts, along with sesame lignans, in a family of formulas called Super Omega-3.
Fish Oil + Olive Fruit Extract = Greater Efficacy
Research findings indicate that a combination of fish oil and olive oil can support a healthy inflammatory response better than fish oil alone.5 Super Omega-3 incorporates the benefits of both fish oil and olive fruit extract into a single formula.

Each serving (4 softgels) provides a similar olive polyphenol level as over 4 tablespoons of extra-virgin olive oil. This assumes 318 mg/kg of olive polyphenol in extra-virgin olive oil as reported for Bertolli Extra Virgin Olive Oil. Please note other components in olive oil include monounsaturated fat, tocopherols, and phytosterols. Ingestion of olive oil may provide additional benefits beyond olive polyphenols.
Sesame Lignans Enhance Fish Oil Efficacy
Studies show that when sesame lignans are added to fish oil, there is a greater safeguard against oxidation along with the EPA/DHA fatty acids being directed toward pathways that help with inflammatory reactions.6

Supportive but not conclusive research shows that consumption of EPA and DHA omega-3 fatty acids may reduce the risk of coronary heart disease.
Supplement Facts
Serving Size 4 softgels



Amount per day (8 softgels)

Pure+™ Wild Fish Oil Concentrate Yielding: EPA (eicosapentaenoic acid) 1400 mg DHA (docosahexaenoic acid) 1000 mg

4000 mg
Polyphen-Oil TM Olive extract (fruit and leaf) [providing 39 mg polyphenols, 10,4 mg hydroxytyrosol/tyrosol, 8,8 mg verbascoside/oleuropein]
600 mg
Sesame seed lignan extract
20 mg
Ingredients: Highly refined fish oil concentrate (Wild anchovy), capsule (gelatine, humectant (glycerol), purified water, colour (plain caramel)), olive fruit extract (Olea europaea L.), anti-caking agent (silicon dioxide [nano]), olive leaf extract (Olea europaea L.), sesame seed extract (Sesamum indicum L.), natural lemon flavor, emulsifier (lecithins), sesame seed powder (Sesamum indicum L.), antioxidant (extracts of rosemary)

Non-GMO

IFOS™ certification mark is a registered trademark of Nutrasource Diagnostics, Inc. These products have been tested to the quality and purity standards of the IFOS™ program conducted at Nutrasource Diagnostics, Inc.


Dosage and Use

Take four (4) softgels twice daily with meals.

Caution

If you are taking anti-coagulant or anti-platelet medications, or have a bleeding disorder, consult your healthcare provider before taking this product.


Warnings

KEEP OUT OF REACH OF CHILDREN

DO NOT EXCEED RECOMMENDED DOSE

Do not purchase if outer seal is broken or damaged.

When using nutritional supplements, please consult with your physician if you are undergoing treatment for a medical condition or if you are pregnant or lactating.


JAMA Intern Med. 2015;175(5):767-76.


Public Health Nutr. 2006 Dec;9(8A):1136-40.


Am J Prev Med. 2005 Nov;29(4):335-46.


J Am Diet Assoc. 2005 Mar;105(3):428-40.


Nutrition. 2005 Feb;21(2):131-6.


Biochem Biophys Acta. 2004 Jun 1;1682(1-3):80-91.
Customers who bought this product also bought:
15 other products in the same category: