Two-Per-Day Capsules
Category:
Multivitamins
Manufacturer: Life Extension
Super-potent multivitamin & mineral supplement
Has the highest nutritional potencies of any science-based multivitamin formula that can fit inside two capsules


One of the great bargains in the dietary supplement marketplace


Now contains three potent forms of selenium


Contains bioactive forms of vitamin B2 and vitamin B6


Contains 5-methyltetrahydrofolate (5-MTHF), the active form of folate that is up to 7 times more bioavailable than folic acid


Is also packed with nutrients like zinc citrate


Contains Alpha-lipoic acid which promotes liver health, nerve health and helps boost glutathione levels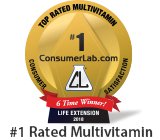 Top Rated


Multivitamin Product


6-Time Winner


ConsumerLab.com
In stock Warning: Last items in stock!
Availability date:
By buying this product you can collect up to 30 loyalty points. Your cart will total 30 points that can be converted during next order into a voucher of 1,50 €.

Volume discounts
Quantity
Price
You Save
2
29,46 €

Up to

2,45 €
4
28,84 €

Up to

7,36 €
More info
Two-Per-Day Capsules

120 capsules

Item Catalog Number: 02314
Our Two Per Day formula gives you more of the essential vitamins, minerals, and other nutrients your body needs. This is important because Recommended Dietary Allowances (or RDAs) provide only the minimal doses necessary to avoid deficiency. But in order to achieve optimal health and well-being, you need the ideal dose of high-quality vitamins and minerals every day.

Our Formula Beats Centrum® 10 ways*
    12 times more vitamin B12
    6,6 times more vitamin B6
    2.5 times more vitamin B3

*Formula compared to Centrum® Silver® Adults 50+.


Our soy-free Two-Per-Day Capsules contain the bioactive form of the B-vitamin folate, 5-MTHF; zinc citrate; the mixed tocopherol form of vitamin E, and more. Get the most out of your multivitamin with Life Extension Two-Per-Day Capsules.
More facts about Life Extension® Two-Per-Days
Huge numbers of Americans take a multivitamin, but the potencies of the individual nutrients are usually so trivial that any health benefit is minimal. And that makes the ultra-low cost of our Two-Per-Day formula one of the great bargains in the dietary supplement marketplace.

Bioactive quercetin phytosome
Our Two-Per-Day multivitamin contains 5 mg of quercetin that has been integrated into a phytosome. A phytosome is a phospholipid sphere that encases a botanical compound, aiding in its absorption and making it more bioavailable: this quercetin is up to 50 times more bioavailable than standard quercetin. Quercetin supports cellular health, endothelial health, healthy immune function, and more.


Vitamin D for healthy minds and bodies
We all know vitamin D supports bone health. But vitamin D also promotes healthy cell division, supports immune system health, and more.2, 3 Because of widespread vitamin D deficiency, nutritional scientists are calling for an increased vitamin D intake: 1,000 IU per day and higher. Our Two-Per-Day multivitamin delivers 2,000 IU of vitamin D3 with every serving.
Vitamin C for immune health, arterial health, and more
Vitamin C is famously associated with immune system health, an effect that may result from its ability to scavenge free radicals and protect against oxidative stress, as well its stimulation of the production and function of white blood cells.4-6 Additionally, vitamin C is vital to collagen formation, the connective tissue found throughout healthy arterial walls, skin, bones, and teeth.5 Our Two-Per-Day formula delivers 470 mg of vitamin C per serving.


B Vitamins help maintain youthful metabolism
Your body needs B vitamins to release energy stored in carbohydrates, fats, and proteins — energy your cells use to carry out their daily functions. But there's more than one "vitamin B." And because they are metabolically codependent, B vitamins work together to keep you healthy. That's why our formula contains readily metabolized forms of vitamin B1, riboflavin (B2), vitamin B12, vitamin B6, and more.


Bioactive 5-MTHF Folate
Our Two-Per-Day formula now contains 400 mcg of 5-methyltetrahydrofolate (5-MTHF), a form of folate that is up to seven times more bioavailable than folic acid.7 This is particularly important for those with certain genetic enzyme deficiencies, since 5-MTHF is already in a metabolically active form.8


High-potency minerals, antioxidants, and extracts
A multivitamin is not complete without the minerals and other nutrients essential to healthy living. Our Two-Per-Day formula provides 10 times more biotin and twice as much zinc as Centrum® Silver® Adults 50+. Our formula also delivers 100 mg of magnesium and 150 mcg of iodine, as well as trace minerals like manganese and boron.

Alpha-lipoic acid — Alpha-lipoic acid is a potent defender against oxidative stress that promotes metabolic and nerve health, and helps protect vitamin C and glutathione against damaging free radicals.10-12

Selenium
— Selenium supports heart and brain health, promotes a healthy inflammatory and immune response, helps quench free radical activity.13, 14
Our-Two-Per Day formula has three unique forms of selenium (200 mcg total): SelenoExcell®,SelenoPure®, Se-methyl L-selenocysteine, and sodium selenite, each form acting along a different biological pathway.
Apigenin — This powerful botanical bioflavonoid is found in many fruits and vegetables.15 Apigenin helps boost the body's natural cellular defenses.

Marigold extract — Standardized for both trans-lutein and trans-zeaxanthin, the marigold extract in our Two-Per-Day formula promotes ocular health and helps inhibit oxidative stress.

Everyone should be taking a daily multivitamin: there's no simpler way to ensure your body is getting the essential vitamins, minerals, and nutrients you need to stay healthy and live better. But not all multivitamins are created equal — so choose the best: Life Extension Two-Per-Day Capsules.

Ratings based on results of the 2018 ConsumerLab.com Survey of Supplement Users.


Supplement Facts
Serving Size 2 capsules

Servings Per Container 60


Amount Per Serving

Vitamin A (as beta-carotene) 

(5,000 IU)

1500 mcg
Vitamin C (

as ascorbic acid, calcium and niacinamide ascorbates

)
470 mg
Vitamin D3 (as cholecalciferol) (2,000 IU)
50 mcg
Vitamin E (as D-alpha tocopheryl succinate, mixed tocopherols)
67 mg
Thiamine (vitamin B1) (as thiamine HCI)
75 mg
Riboflavin (vitamin B2) (as riboflavin, riboflavin 5'-phosphate)
50 mg
Niacin (as nicotinamide,

niacinamide ascorbate

)
50 mg
Vitamin B6 (as pyridoxine HCI, pyridoxal 5'-phosphate)
75 mg
Folate (as L-5-methyltetrahydrofolate calcium salt)
680 mcg
Vitamin B12 (as methylcobalamin)
300 mcg
Biotin
300 mcg
Pantothenic acid (as D-calcium pantothenate)
50 mg
Iodine (as potassium iodide)
150 mcg
Magnesium (as magnesium oxide)
100 mg
Zinc (as zinc citrate, L-OptiZinc® zinc mono-L-methionine sulfate)
25 mg
Selenium [as sodium selenite, SelenoExcell® high selenium yeast, SelenoPure® L-selenomethionine]
200 mcg
Manganese (as manganese citrate, gluconate)
2 mg
Chromium [

as Crominex® 3+ chromium stabilized with Capros® amla extract (fruit), PrimaVie® Shilajit

]
200 mcg
Molybdenum (

as molybdenum amino acid chelate

)
100 mcg
Inositol
50 mg
Alpha lipoic acid
25 mg
Natural mixed tocopherols (providing gamma, delta, alpha, beta)
20 mg
Bio-Quercetin phytosome (providing 5 mg quercetin [from Japanese sophora concentrate (flower bud)], phosphatidylcholine complex [from sunflower])
15 mg
Marigold extract (flower) [std. to 5 mg trans-lutein, 155 mcg trans-zeaxanthin]
11.12 mg
Apigenin
5 mg
Boron (

as boron amino acid chelate

)
3 mg
Lycopene [from LycoBeads ® natural tomato extract (fruit)]
1 mg
Other ingredients: 

vegetable cellulose (capsule), starch, maltodextrin, vegetable stearate, dicalcium phosphate, silica, microcrystalline cellulose.

Lycored Lycopene™ is a registered trademark of Lycored; Orange, New Jersey.

SelenoExcell® is a registered trademark of Cypress Systems Inc.

L-OptiZinc ® and logo are trademarks of Lonza or its affiliates.

SelenoPure® is a registered trademark of Nutrition 21.


Dosage and Use

Take two (2) capsules daily in divided doses with meals, or as recommended by a healthcare practitioner.


Caution

Individuals consuming more than 2,000 IU/day of vitamin D (from diet and supplements) should periodically obtain a serum 25-hydroxy vitamin D measurement. Vitamin D supplementation is not recommended for individuals with high blood calcium levels.


Warnings

KEEP OUT OF REACH OF CHILDREN

DO NOT EXCEED RECOMMENDED DOSE

Do not purchase if outer seal is broken or damaged.

When using nutritional supplements, please consult with your physician if you are undergoing treatment for a medical condition or if you are pregnant or lactating.


Int J Diab Dev Ctries. 2010 30(3): 153-161.


Aging Dis. 2017 May; 8(3): 346-353.


Ann N Y Acad Sci. 2013 1287(1): 45-58.


Nutrients. 2017 9(339): 1-28.


Adv Nutr. 2014 Jan 1; 5(1): 16-8.


Linus Pauling Institute, 2013. http://lpi.oregonstate.edu/mic/vitamins/vitamin-C Accessed 04/25/18


Br J Pharmacol. 2004 Mar; 141(5): 825-30.


The Primary Care Companion for CNS Disorders. 2013 08/29; 15(4): PCC.13m01520.


Free Radic Biol Med. 2008 Mar 15; 44(6): 1203-8.


Linus Pauling Institute, 2012. http://lpi.oregonstate.edu/mic/dietary-factors/lipoic-acid Accessed 4/25/2018


Inflamm Res. 2017 Nov; 66(11): 947-959.


Free Radic Biol Med. 1998 Apr; 24(6): 1023-39.


Linus Pauling Institute, 2015. http://lpi.oregonstate.edu/mic/minerals/selenium Accessed 04/25/18


J Inorg Biochem. 2015 Dec; 153(1): 1-12.


Pharm Res. 2010 Jun; 27(6): 962-78.
Reviews (not verified)
No customer reviews for the moment.
Customers who bought this product also bought:
11 other products in the same category: