RECOMMENDATION NO 1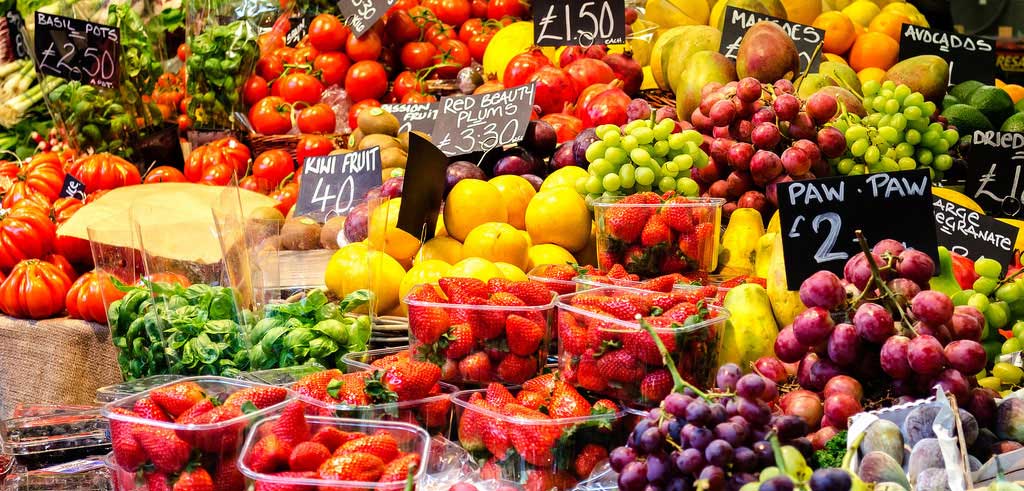 Don't Die From A Deficiency
Few doctors are aware of how shockingly deficient Americans are in essential nutrients. It's a fundamental fact that the vast majority of Americans fail to obtain even the tiny amount of nutrients in their diets that the medical establishment says are needed. Take vitamins D & E for example.
Over the past several years scientists have validated the critical role vitamin D plays in regulating a host of bodily functions. Yet still there is evidence of a widespread vitamin D insufficiency. This has led to recommendations for Americans to increase their vitamin D intake to 5,000 IU per day and higher. While most commercial multivitamin supplements contain less than 1000 IU of vitamin D, Life Extension Mix™ and Two-Per-Day formulas contain 2,000 IU. Most Life Extension customers also take a 5,000 IU softgel of vitamin D3 each day to achieve optimal blood levels of 25-hydroxyvitamin D, which are between 50-80 ng/mL.
A published study in the American Journal of Clinical Nutrition looked at blood levels of vitamin D (measured as 25-hydroxyvitamin D) in 9,949 people aged 50-74 for a median of 9.5 years. Compared to those with sufficient vitamin D levels, those who were deficient had a 71% higher rate of dying from any cause. 1
Many Americans also supplement with vitamin E to obtain its antioxidant benefits. The federal government, however, says only 15 mg of vitamin E (22.5 IU) (in the form of d-alpha tocopherol) are needed. The Journal of The American Dietetic Association says that 92% of American men and 97% of American women do not even consume the recommended 15 mg (22.5 IU) in their diets!2
In January 2008, the Journal of the American Medical Association (JAMA) published findings from a study that measured vitamin E levels in people 65 years and older. It showed that those with the lowest blood levels of vitamin E were 62% more likely to suffer physical decline over the three-year follow-up period.3
But these two vitamins are just the beginning. Most diets fail to provide even the minimum amounts of nutrients according to the low government recommended daily intakes. As a result, Americans suffer shocking deficits of such other vital nutrients as calcium4, magnesium5, potassium,4vitamin B56 and B6, and vitamin D7. All of these deficiencies are correctable by taking standardized fruit/vegetables extracts along with vitamins/minerals that are available in highly concentrated supplement forms.
---
Life Extension Mix™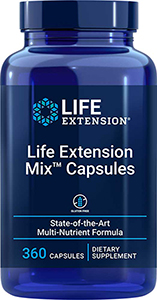 The majority of Americans don't eat enough fruits and vegetables every day to avoid a host of age-related problems. So, Life Extension Mix™ provides all the high-potency vitamins, minerals, and amino acids needed to form the cornerstone of a comprehensive health maintenance program. It includes:
Standardized Vegetable Extracts - including 8 mg of luteolin, a flavonoid (found in parsley, artichoke, basil, celery, and olive leaf extract) that provides DNA protection8,9 from oxidative damage … and suppresses excess levels of cytokines;10-17 a broccoli mixture with standardized extracts of sulforaphane and glucosinolates, and gene-protecting chlorophyll;18-28 175 mg of D-glucarate (a phytonutrient found in grapefruit, apples, oranges, broccoli, and Brussels sprouts) to support elimination of DNA toxins;29-31lutein (found in spinach and collard greens) to help maintain critical pigments in the eye macula;32-34lycopene (from tomatoes) to help maintain DNA structure and protect against LDL oxidation.35-43Life Extension Mix™ contains 60 times more lutein and 10 times more lycopene than the leading multivitamin tablet. Most multivitamin supplements provide no vegetable extracts at all.
Blueberry Extract - with anthocyanins that have been shown to improve memory and help with degenerative changes in aging neurons.44-53 It also contains pterostilbene, which helps maintain already normal lipid and glucose levels,53-58 and (together with blueberry anthocyanins) may help maintain healthy DNA structure.59-63
Standardized Green Tea Extract - with active polyphenols that help inhibit LDL oxidation, neuronal peroxidation, and maintain healthy DNA structure.64-87 A daily dose of Life Extension Mix™ contains 325 mg of a decaffeinated green tea extract with polyphenols (including the potent EGCG) equivalent to drinking 1½ cups of green tea. And green tea powdered extracts are 60%–90% better absorbed in the bloodstream88 … and far more bioavailable than drinking green tea.
Standardized Pomegranate Extract - with biologically active punicalagins that are 100% water-soluble, 95% absorbed,89 and highly potent at suppressing free radicals.90 Published studies show pomegranate helps maintain healthy cardiovascular function91-96 and healthy DNA structure in prostate cells.97-105 Your daily dose of Life Extension Mix™ provides pomegranate extract standardized to the punicalagins and polyphenol content of up to 2.6 ounces of pomegranate juice … without the calories.
Standardized Fruit Extracts - including bilberry fruit, grape seed, and citrus bioflavonoids to protect against oxidative stress, provide healthy circulation throughout the body and maintain healthy DNA … maqui berry and tart cherry for antioxidant benefits that support heart health as well as muscle and joint function106-127 … plus blackberry, cranberry, plum, elderberry, persimmon, and cherry for multiple benefits.
Delphinidins - potent anthocyanin compounds found in dark red fruits that activate the production of nitric oxide, enabling vascular relaxation and supporting blood pressure.128-130 Delphinidins can also help to control inflammatory processes,131-137 glycation,138 stimulate the immune system, and stabilize blood sugar139 helping to control metabolic balance. The content of delphinidins in the new Life Extension Mix™ is equivalent to 3¼ cups of raspberries or 5¾ cups of dried plums.
Olive Extract - with polyphenols like hydroxytyrosol that have been shown to protect against LDL oxidation, suppress free radicals, and stabilize cell membranes.140-159
Sesame Seed Lignan Extract - to increase human tissue levels of vitamin E,160-162 increase the beneficial effects of fish oils, help regulate LDL oxidation, and help maintain already healthy cholesterol/LDL levels in those already within normal range.163-167
Three Forms of Selenium - SelenoExcell® high selenium yeast, sodium selenite, and Se-methyl L-selenocysteine … each providing unique biological benefits. Some scientific evidence suggests that selenium consumption may reduce the risk of certain forms of cancer;168-173 however, the FDA has determined that this evidence is limited and not conclusive.
Nutrients to Maintain Healthy Blood Glucose Levels - including chromium, highly absorbable forms of magnesium, a super high-potency biotin,174-185 plus Crominex® 3+ … a stable, biologically active chromium complex with a standardized Indian gooseberry extract and a proprietary form of the adaptogen Shilajit. 500 mcg of chromium as Crominex® 3+ helps support normal cellular glucose absorption, healthy endothelial function, healthy lipid and triglyceride levels, and normal cellular energy production.
High Potency Vitamin D3 - 2,000 IU, critical for maintaining bone density, healthy cell division and immune health.186-199 (Most Life Extension customers should take an additional 5,000 IU of vitamin D and have their blood tested several months after to ensure they achieve optimal vitamin D levels.)
Pyridoxal 5'-Phosphate - this metabolically active vitamin B6 in each daily dose to protect against protein and lipid glycation reactions.200-203
Methylcobalamin - the form of vitamin B12 that is more efficiently utilized by the body. 204
5-MTHF (5-methyltetrahydrofolate) - Folate helps maintain homocysteine levels within the normal range. And LE Mix™ contains 400 mcg of the bioactive 5-MTHF form of folate which is up to 7 times more bioavailable than ordinary folic acid.
Apigenin - a powerful bioflavonoid which boosts cell protection and has been shown to inhibit inflammatory factors.205-208
Life Extension Mix™ is by far the most complete multi-nutrient formula anywhere … with the most popular vitamin and mineral supplements, antioxidants, water- and fat-soluble vitamin C, the ideal form of alpha vitamin E, and botanical extracts that help protect against cellular DNA damage. Additional ingredients enhance beneficial DNA methylation patterns, help maintain already normal glycemic control, and help regulate the oxidation of LDL. You get it all … at the best "cost-per-milligram" value.
---
Two-Per-Day
This alternative to Life Extension Mix™ is for those who want to take their nutrients separately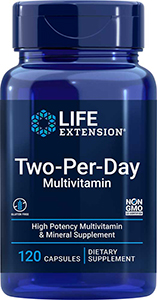 Need a complete multivitamin-mineral supplement to fill the missing gaps? Two-Per-Day provides the greatest potencies that can fit into two daily tablets or capsules … and contains up to 50 times more potency of specific nutrients than conventional "one-a-day" products! Why is this so important? While Recommended Daily Allowances (RDAs) were developed by the government, they only provide the minimal doses to protect you from deficiency. Research studies demonstrate that unless you're taking the ideal dose of vitamins and minerals, you won't fully receive their benefits for optimal health and well-being. Commercial supplements also contain the cheapest form of nutrients without optimal benefits. For example, the 50 IU of synthetic vitamin E in Centrum® Silver® Adults 50+ may provide relatively little vitamin E to the bloodstream. Synthetic vitamin E is distributed throughout the body only about half as much as natural vitamin E. The daily dose of Two-Per-Day was designed to remedy the widespread deficit of basic nutrients that exists even among multivitamin users. For example, Centrum® Silver® Adults 50+ users get only 1,000 IU of vitamin D daily compared to 2,000 IU in Two-Per-Day. And Two-Per-Day users benefit from the addition of alpha-lipoic acid (the universal antioxidant that helps boost glutathione levels) and Crominex® 3+ (a stable, biologically active chromium complex to help maintain healthy blood sugar levels already within normal range).
Also included is 400 mcg of the bioactive 5-MTHF form of folate that is up to 7 times more bioavailable than ordinary folic acid. In addition, Two-Per-Day now contains three potent forms of selenium — SelenoExcell®, Se-methyl L-selenocysteine, and sodium selenite — each providing unique benefits. SelenoExcell® is a natural selenium source that has been validated in large clinical trials. Some scientific evidence suggests that consumption of selenium may reduce the risk of certain forms of cancer; however, the FDA has determined that this evidence is limited and not conclusive. Also newly included is apigenin, a powerful bioflavonoid which boosts cell protection and has been shown to inhibit inflammatory factors.
Since most vitamins are water-soluble and don't last long in the body, it's best to take these nutrients at least twice a day. Each Two-Per-Day Tablet or Capsule is sized for ease of swallowing … and priced inexpensively compared to commercial brands that provide a fraction of the nutrients.
+
Cancer Epidemiol Biomarkers Prev. 2013 May;22(5):905-16.
J Am Diet Assoc. 2004; 104 :567–75.
JAMA. 2008 Jan 23;299(3):308-15.
J Am Coll Nutr. 2009 Feb;28 Suppl 1:73S-81S.
Am J Clin Nutr. 1981 Jul;34(7):1328-37.
Arch Intern Med. 2009 Mar 23;169(6):626-32.
Am J Respir Crit Care Med. 2002 Mar 15;165(6):818-23.
Biochem Biophys Res Commun. 2014 Jan 3;443(1):326-32.
Eur J Pharmacol. 2011 Jun 25;660(2-3):454-9.
Free Radic Biol Med. 2011 May 1;50(9):1081-93.
J Nutr Biochem. 2011 Jul;22(7):612-24.
Cell Biol Int. 2007 Sep;31(9):870-7.
PLoS One. 2014 Feb 28;9(2):e90739.
Toxicology. 2013 Aug 9;310:115-23. d
Biochem J. 2002 May 15;364(Pt 1):301-7.
Metabolism. 2001 Oct;50(10):1130-5.
Carcinogenesis. 2003 Mar;24(3):491-5.
Carcinogenesis. 2004 Feb;25(2):219-27.
Proc Nutr Soc. 2009 Feb;68(1):103-10.
Rocz Panstw Zakl Hig. 2007;58(1):7-13.
Nutr Rev. 2012 Nov;70(11):654-65.
Postepy Hig Med Dosw (Online). 2010 Nov 29;64:590-603.
Cancer Lett. 2008 Oct 8;269(2):291-304.
Postepy Hig Med Dosw (Online). 2008 Sep 5;62:451-62.
Integr Cancer Ther. 2003 Jun;2(2):139-44.
Altern Med Rev. 2002 Aug;7(4):336-9.
Invest Ophthalmol Vis Sci. 2011 Oct 17;52(11):8174-8. Print 2011 Oct.
Mutat Res. 2012 May 1;733(1-2):4-13.
Maturitas. 2011 Apr;68(4):299-310.
Int J Food Sci Nutr. 2011 May;62(3):289-94.
Annu Rev Food Sci Technol. 2010;1:189-210.
Salud Publica Mex. 2010 May-Jun;52(3):254-65.
Clin Sci. [Lond] 2003 Sep;105(3):355-61.
Arch Biochem Biophys. 2004 Oct 1;430(1):127-34.
J Neurosci. 1999 Sep 15;19(18):8114-21.
Neurobiol Aging. 2006 Feb;27(2):344-50.
J Agric Food Chem. 2005 May 4;53(9):3403-7.
Mutat Res. 2003 Feb 5;535(1):103-15.
Mutat Res. 2010 Dec 21;703(2):158-62.
Chin Med J (Engl). 2010 Oct;123(19):2714-9.
J Agric Food Chem. 2007 Sep 19;55(19):7777-85.
J Agric Food Chem. 2004 Jul 28;52(15):4713-9.
Arch Oral Biol. 2012 May;57(5):429-35.
Carcinogenesis. 2011 Nov;32(11):1684-8.
BMC Cancer. 2011 Aug 18;11:360.
Nutr Rev. 2007 Aug;65(8 Pt 1):361-75.
Lancet. 1997 Feb 1;349(9048):360-1.
Kobe J Med Sci. 2008 May 23;54(1):E62-72.
Int J Vitam Nutr Res. 2008 Dec;78(6):275-81.
Free Radic Biol Med. 2010 Mar 15;48(6):831-8.
J Am Coll Nutr. 2009 Aug;28(4):355-61.
Brain Res Bull. 2000 Dec;53(6):743-9.
Life Sci. 2001 Dec 21;70(5):603-14.
Front Biosci (Elite Ed). 2012 Jan 1;4:111-31.
Carcinogenesis. 2012 Feb;33(2):377-84.
Am J Clin Nutr. 2004 Dec;80(6):1558-64.
Eur J Nutr. 2003 Jan;42(1):18-28 .
Drugs Exp Clin Res. 2002 28(2-3):49-62.
J Nutr. 2001 Aug;131(8):2082-9.
Br J Pharmacol. 2005 Jul;145(6):767-74.
J Nutr Biochem. 2005 Sep;16(9):570-6.
Cell Cycle. 2006 Feb;5(4):371-3.
Proc Natl Acad Sci U S A. 2005 Oct 11;102(41):14813-8.
Nutr Cancer. 2009;61(6):811-5.
Crit Rev Food Sci Nutr. 2011 Aug;51(7):626-34.
Clin Cancer Res. 2006 Jul 1;12(13):4018-26.
J Nutr. 2009 Oct;139(10):1896-900. Epub 2009 Aug 19.
J Nat Prod. 1999 Feb;62(2):294-6. Erratum in: J Nat Prod 1999 May;62(5):802.
Phytomedicine. 2001 Sep;8(5):362-9.
Scand J Med Sci Sports. 2010 Dec;20(6):843-52.
J Agric Food Chem. 2012 Jul 4;60(26):6571-80.
J Int Soc Sports Nutr. 2010 May 7; 7:17 .
J Agric Food Chem. 2011 Mar 9;59(5):1630-7.
Z Naturforsch C. 2009 Sep-Oct;64(9-10):759-62.
Phytochem Anal. 2006 Jan-Feb;17(1):8-14.
J Agric Food Chem. 2002 Dec 18;50(26):7542-7.
Br J Sports Med. 2006 Aug;40(8):679-83.
Food Chem. 2009 Jul;115(1):20-25.
Br J Pharmacol. 2003 Jul;139(6):1095-102.
PLoS One. 2010 Jan 1;5(1):e8554.
Planta Med. 2012 Oct;78(15):1626-32. hypertension
J Nutr Biochem. 2013 Dec 31. pii: S0955-2863(13)00261-1.
Mol Nutr Food Res. 2013 Jul;57(7):1182-97.
Genes Nutr. 2012 Apr;7(2):295-306.
Planta Med. 2013 Nov;79(17):1599-604.
Am J Clin Nutr. 2012 May;95(5):1238-44.
J Nutr. 2013 Jul;143(7):1067-73.
Cri Rev Food Sci Nutr. 2002;42(3):209-21.
J Agric Food Chem. 2004 Apr 21;52(8):2358-65.
J Agric Food Chem. 2003 Dec 17;51(26):7636-41.
J Food Sci. 2008 Sep;73(7):C519-25.
Arterioscler Thromb Vasc Biol. 2003 Apr 1;23(4):622-9.
Chem Phys Lipids. 2003 Jun;124(1):23-36.
Med. Sci. Monit. 2004 Apr;10(4):I49-I54.
J Biol Chem. 2002 Jul 12;277(28):25290-6.
J Mol Biol. 2003 Aug 15;331(3):725-34.
. J Nutr. 2013 Jul;143(7):1067-73.
J Nutr Sci Vitaminol [Tokyo]. 2003 Aug;49(4):270-6.
Life Sci. 2000;66(2):161-71.
Recent Pat Food Nutr Agric. 2011 Jan;3(1):17-29.
Int J Food Sci Nutr. 2012 Sep;63(6):674-8.
Diabetes Technol Ther. 2006 Dec;8(6):636-43.
Am J Med Sci. 2007 Mar;333(3):145-53.
Arch Med Res. 2005 May-Jun;36(3):250-7.
Nutr Clin Care. 2003 May-Sep;6(2):51-61.
Horm Metab Res. 2007 Oct;39(10):743-51.
Curr Diab Rep. 2010 Apr;10(2):145-51.
Diabetes Educ. 2004;Suppl:2-14.
Med Sci Sports Exerc. 1997 Aug;29(8):992-8.
Am J Hypertens. 1999 Aug;12(8 Pt 1):747-56.
Med Sci Sports Exerc. 1997 Aug;29(8):992-8.
J Nutr Sci Vitaminol (Tokyo). 1996 Dec;42(6):517-26.
Ren Fail. 1996 Jan;18(1):131-7.
Arch Med Res. 2002 Sep-Oct;33(5):439-47.
Anticancer Res. 1999 May-Jun;19(3A):1689-97.
Br J Dermatol. 2002 Aug;147(2):197-213.
Blood. 2001 Apr 15;97(8):2427-33.
Am J Clin Nutr. 2004 Jul;80 (1):108-13.
Calcif Tissue Int. 2004 Sep;75(3): 183-8.
Age Aging. 2004 Jan;33(1):45-51.
J Lipid Res. 2006 May;47(5):964-74.
J Am Soc Nephrol. 2005 Jan;16(1):144-50.
Amino Acids. 2012 Apr;42(4):1163-70.
Nephrol Dial Transplant. 2007 Aug;22(8):2165-74.
Altern Med Rev. 1998 Dec;3(6):461-3.
J Plant Physiol. 2005 Jul;162(7):790-6
J Nutr Biochem. 2004 Jul;15(7):380-95.
Nutrition. 2001 Oct;17(10):799-805
Mol Aspects Med. 2007 Oct-Dec;28(5-6):423-36.